---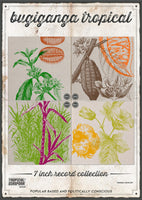 Sale
Digital Poster TROPICAL DIASPORA Bugiganga Tropical Covers - Format A1 59,4 cm x 84,1 cm
Hi Resolution Poster as PDF file for download in A1 format made for high quality print.
After payment we will send you the link for Download.
---
The Bugiganga Tropical 7 inch record collection
At the time Tropical Diaspora® was established as a company, the first four numbers in our catalog was already reserved for that what should be the foot print our commitments as music company and immigrants in Europe. Our first four releases on vinyl is a collection using an organic motive, plants related to the pueblos originarios i.e Native people, the kidnapped enslaved Africans and the colonial invaders. The colonial civilizations in the so called American continents were built on their shoulders between many genocides caused by the colonial administrations that have killed millions in the past in the colonies and continue to kill nowadays as constitutional states. In the case of the Native people reducing the populations to nearly extinction.
The plants in the cover-art should help the beholder to remember the ancestors of the Native and African people that are the foundation of the culture and identity of the Americas or the Abya Yala, the name used by the Native American nation Guna people which in the Guna language means "land in its full maturity" or "land of vital blood".
The full story here: www.tdrgo.co/bt